QUALIFICATIONS: 
Level 2 Tennis Ireland
COACHING EXPERIENCE: 
10 years
CLUBS: 
Head Coach in Galway Lawn Tennis Club, Connacht Performance Development Officer
INFLUENCES: 
People that have influenced my coaching are: Garrett Barry, Billy Bolster and Jean Barr.  International coaches I like to follow are: Jeff Salzenstein and Chris Lewitt.
People that influenced the way I play are: My Mum / Coach Jill McCormack and my Sister Claire, who I practiced with all through my Junior Tennis Career. A special mention must also go to "THE WALL"!
COACHING ETHOS: 
I like to teach by feel – getting the student to understand what a shot feels like, means they can learn with every shot they hit. And then, repetition leads to excellence.
COACHING TIP: 
Hold the finish on your shots and feel balanced until the ball has landed on the other side of the court. Do this with a partner where you are working cooperatively. Work on achieving a rally of 10 shots and work up to 20. This also tests you mentally and physically.
QUALIFICATIONS:
Level 2 Tennis Ireland
COACHING EXPERIENCE:
5 years
CLUBS:
Coach in Galway Lawn Tennis Club
BACKGROUND:
My journey in tennis started in Parks Tennis and playing with my Father. I played tennis only in the summer time until I was 10/11, and then I started in Galway LTC. I was coached by 2/3 coaches but mainly by Hugh McDonagh until I was 15. I took a break for a while, but I got playing a lot more regularly from the age of 18. I enjoyed playing the senior tournaments and playing Mike Geraghty's Tuesday night doubles.
I studied Sports Science in London for three years and whilst there I played tennis for the University. We had matches on Wednesdays against other Universitys home and away. I got to play in Roehampton where the LTA National Training Centre was, and I played against some really good players. After that, I returned to Galway. I became the Galway LTC Tennis Captain and I did my Tennis Ireland Level 1 in Dublin with Alec Sandys. We both passed with flying colours. 🙂 I did some coaching in Galway LTC, but I was looking for something more full time.
I applied for the position of Head Coach in Omagh. I succeeded and moved to the Northern Ireland in 2013. I was coaching juniors and seniors but also helping to organise tournaments, social competitions and other events. Whilst in Omagh, I completed my Tennis Ireland Level 2 and I played for Connacht on a few occasions.
5 years have passed, and in January 2018 I returned to where it all started. My aim is to help grow the numbers playing tennis in Galway, while also improving the standard. There is a good team of people here so "sky's the limit".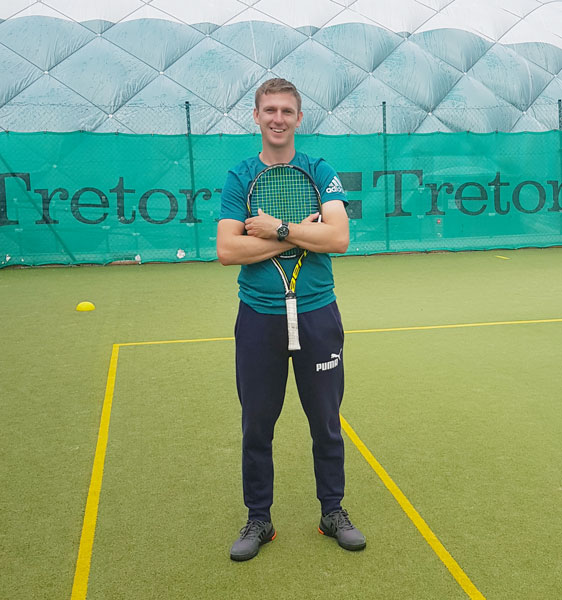 QUALIFICATIONS: 
Level 1 Tennis Ireland
COACHING EXPERIENCE: 
6 years coaching experience with GLTC
1 year in the Cayman Islands
CLUBS: 
Involved with the Connacht squads and regional squads
ACCOMPLISHMENTS: 
Represented Junior and Senior Connacht Interpros.
Competed in many tournaments across the country.
Won titles in Club Championships and Opens.